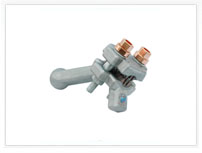 Arc-Protection Hardware Feature& Naming Way
Function and Features :
1. Simple installation:install it directly without wire stripping, tighten torque by torque nut to ensure perfect contact with wires by equal piercing pressure and simplify installation. At last protect it with insulation cover to work safely and reliably.
2. Resonable design: a precise arc discharge gap between hardware and arcing-plate to locate the path of lightning stroke discharge and guide power frequency arc away from overhead line work safely.
3. Outstanding material: Being made of high strength aluminium alloy,the high voltage electrodes can endure arc-burning for many times. The bolts with a high-elasticity gasket support enough strength, and resolve creep problem resulted from long term operating of insulating conductor.
Piercing arc-protection hardware naming way