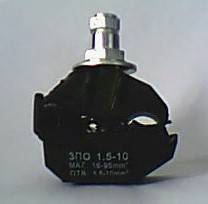 Insulation Piercing Connector
Waterproof insulation piercing connector KT-EP
KT-EPused with insulated Al or Cu conductors. Fully sealing rubber provides safe live line working.
Both main and branch conductor insulations are pierced by a single bolt action.
The shear head bolt and end cap are insulated.
Test voltage 6 kV/50 Hz/1min in water.
Universal Clamp (1KV and under voltage):

Suitable for insulated cable connections and branches. Frequency resistance breakdown voltage greater than 3500V, contact resistance is less than 2.5. Quality and cheap, is the user's best option.


    

Type     
Main Conductor (mm2)
BranchConductor(mm2)
Nominal Current(A)
Outline size (mm)
Weight  (g)
Piercing depth(mm)

KT-EP

16-95

1.5-10

157

46*52*87

50

1.5-2